A Cleaner Office Means Fewer Pests | SERVPRO of Western Lancaster County
12/11/2019 (Permalink)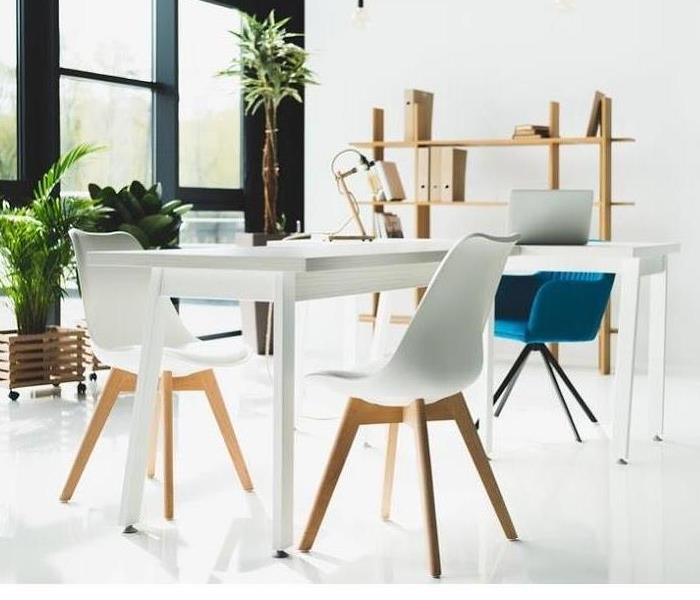 Keeping a tidy work space helps with productively. If your business is in need of a cleaning, contact SERVPRO of Western Lancaster County.
Office Pests 101: A Cleaner Office Means Fewer Pests
Office pests include insects and small mammals, like mice. These pests are attracted to an office for similar reasons as they are to homes — food, water, and shelter. Offices can sometimes be more prone to pests, simply because cleaning may not be a top priority for your staff. Learn how you can boost the cleanliness of your office and help prevent pests.
Break Rooms
Break rooms tend to be ground zero for pest infestations since this is where the bulk of food storage, preparation, and consumption occurs.
Garbage Cans
Ask your cleaning crew to line garbage bins with plastic bags to help keep odors contained. Further, opt for lidded receptacles in the break room to further keep pests out.
If you utilize a daily cleaning service, they should empty each waste bin every evening. For offices with only weekly cleaning services, a staff member should empty break room garbage every night.
Pantries
The state of an office pantry can leave a lot to be desired, and this isn't typically an area serviced by your cleaning crew. Require that employees keep all food items in sealed plastic bags or storage containers with tight fitting lids. Additionally, make sure spills in the pantry areas are cleaned up promptly.
Hard Surfaces
Staff on short breaks don't always have the time to clean up thoroughly after themselves. Spills on counters, food left in the sink, and crumbs on tables or the floors can all lead to a pest infestation. Fortunately, an office cleaning crew can save your break room. The crew will wipe down and disinfect all surfaces. A cleaning service can also wash dishes, clean out the sinks, and mop at the end of every workday.
Offices and Cubicles
There are many office-specific practices that can be attractive to pests, such as storing food in desks or keeping stacks of paper on the floor. Learn how you can avoid this inviting behavior.
Snacks
You don't want to limit snacking in the office, but ground rules are a must. Any food kept in cubicles must be stored in pest-proof containers, such as jars or lidded food storage boxes. Candy jars and similar items must have lids on them. There should also be no half-empty soda cans, water cups, or coffee mugs left on desks overnight.
Cleaning services don't typically remove items from desktops, so it is up to your staff to stay on top of these issues.
Garbage Cans
Someone must empty the office garbage cans nightly, whether they hold food wrappers or not. Full service cleaning companies will empty individual garbage cans if the offices are left open or if keys are provided. Otherwise, at the end of each day staff must empty their cans into a central garbage container that is taken out nightly.
Dust and Debris
Dust, stacks of papers, and general untidiness can also invite pests into a space, plus a mess makes it harder for your cleaning service to do a thorough job. Only 29 percent of office workers feel that their office is cleaned adequately, but part of the problem could be the state of the office before the cleaning staff arrives.
Require that employees file papers away each day. And don't allow items stacked on the floor. This will allow your cleaning service to do a thorough job.
Carpet Spills
Regular carpet cleaning is a must in any office. Crumbs and spilled liquids leave behind tempting morsels for pests. Most office cleaning services also provide office carpet shampoo services. Set up a monthly schedule for a deep clean and you won't have to worry about pests. As a bonus, your office will look and feel much cleaner.
Contact SERVPRO of Western Lancaster County to learn more about how commercial cleaning services can keep your office clean, more welcoming, and free of pest problems.