Carpet and Upholstery Cleaning Service near Mt. Joy, PA
8/16/2022 (Permalink)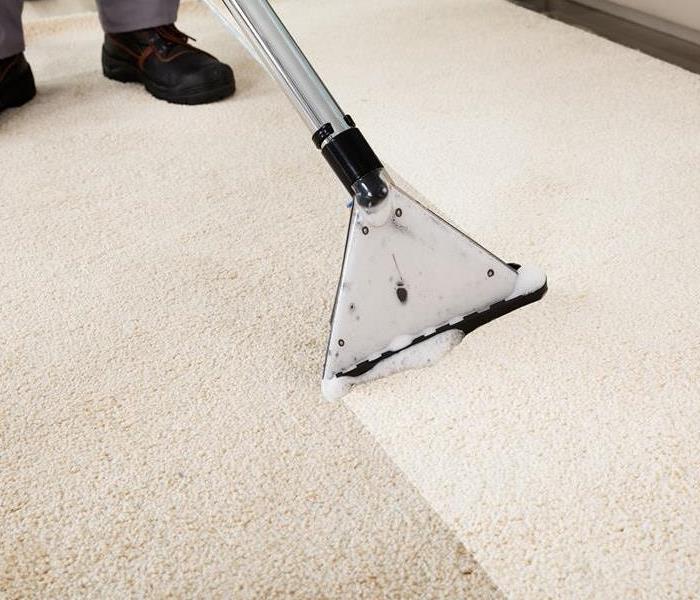 Our carpets and upholstery see a lot of traffic. That traffic brings debris, soil, dust, and other grime that catches in our carpets. While you might do routine maintenance, it helps to get your carpets and upholstery cleaned professionally about once a year.
The professionals at SERVPRO of Western Lancaster County will work to remove the dirt and debris, so your carpet maintains its appearance throughout its life. Business and homeowners around Mt. Joy, Pennsylvania, should read about our services and some routine maintenance tips below.
Routine Carpet and Upholstery Cleaning
Cleaning carpet and upholstery routinely is an important way to help it last longer and look better. Below you'll find some tips on how to keep your carpet and upholstery clean between SERVPRO professional cleanings.
Both carpet and upholstery can be vacuumed regularly. Most vacuums come with upholstery attachments, too, for easy cleaning. Vacuuming removes debris and dust. Doing it periodically prevents a large build-up.
Cleaning up spills promptly can be an important part of carpet and upholstery cleaning. When a spill occurs, cleaning it up can not only prevent staining but prevent it from adding to the dirt already present on your carpet.
You'll want to dab the carpet or upholstery when cleaning up a spill, not scrub it. Scrubbing might damage the material leading to a texture and appearance change.
Professional Services
Professional carpet and upholstery cleaning should be done roughly once every 12 months. We offer several cleaning service options depending on what your carpet needs.
Bonnet Cleaning
Bonnet Cleaning is a service option that's great for short-pile carpets. It uses a rotating floor machine with a pad attached to the bottom. The pad spins, absorbs dirt, and adds cleaning agents to the carpet, enhancing your carpet's appearance.
Hot Water Extraction
A common option for almost any carpet type is Hot Water Extraction. Hot Water Extraction is a deeper clean for moderate soil levels using high-pressure water and cleaner. The pressure of the water loosens dirt, and the cleaner cleans your carpet.
Showcase Premier Cleaning
The deepest cleaning service for carpets is Showcase Premier Cleaning. It is a two-part process that begins with shampooing the carpet, then extracting the cleaner and water. If your carpet has fire damage, this can help restore it.
Deluxe Precondition Rinse Serve
Have a tough stain you need to get out? Our Deluxe Precondition Rinse Serve is a cleaning service that tackles difficult stains or water damage. Soil emulsifier is applied and left on the carpet for about ten minutes. Then, it's removed with a vacuuming wand.
Dry Cleaning
Dry Cleaning is a common cleaning service used for those interested in maintaining the color of their carpets. A cleaning agent breaks up debris, and a small spray of water further cleans debris.
Schedule Professional Carpet and Upholstery Services
If it's time to get your carpet or upholstery professionally cleaned, our SERVPRO professionals are here to get the job done. If your Mt. Joy, PA, home or office carpets or upholstery need cleaning, reach out to our team to schedule service.
SERVPRO of Western Lancaster County helps ensure our carpets and upholstery services clear away dirt "Like it never even happened." Contact us today.