What Does Water Damage Look Like?
4/29/2022 (Permalink)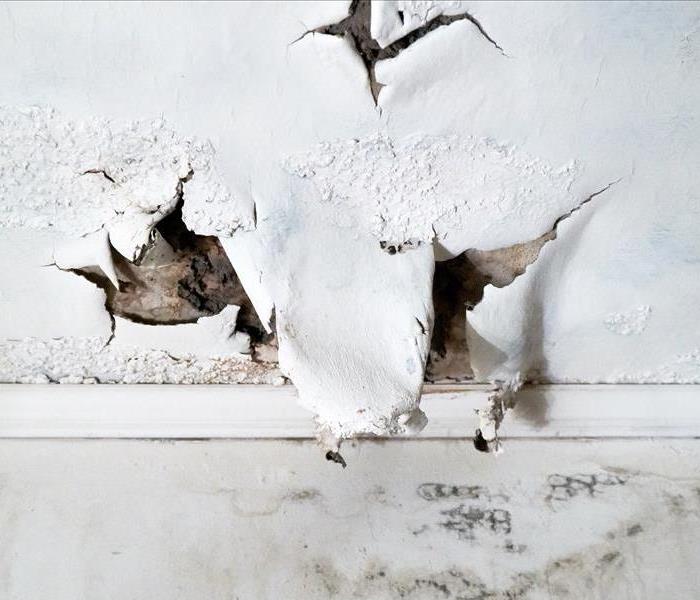 Water damage is unfortunate when it happens in your home or business. It's a problem that must be addressed immediately, so you don't risk further damage to your property's structure. What does water damage look like, and how will you know when you have it?
SERVPRO of Western Lancaster County will show you how to recognize the signs, so you'll be prepared to contact a professional when you need fast water damage restoration.
It may look like wet or dark spots
If you see dark spots on the walls and ceilings, you've likely had recent water damage. This brownish discoloration—or in some cases, wet-looking spots—indicates that water has seeped into the paint as it tries to "escape" the drywall.
Why would the drywall be soaked with water in the first place? Often, this is the result of a plumbing problem that needs to be addressed—a leaking pipe somewhere nearby.
It may look like peeling paint
If the paint on your walls or ceilings is peeling or flaking, you've probably had water damage for some time. Wet spots tend to show up first, but when the problem is left unaddressed, the paint will start to peel.
It may look like swollen drywall—or a sagging ceiling
Unsurprisingly, water damage doesn't do any favors for the looks of your drywall. If left unattended for too long, it can cause your ceilings and walls to swell.
This can be especially dangerous in ceilings. The weight of waterlogged drywall can cause the ceilings to sag and make them structurally unsound. You don't want to put the people in your life at risk, so be sure to address this swelling ASAP when you notice it in your home or business.
It may look like mold
Mold spores are floating in the air everywhere, indoors and outdoors. You can't eliminate them, but you do want to avoid their growing into colonies. All mold spores need is a little bit of water to begin to grow into the visible mold you've seen before on surfaces.
If you can spot mold growing, there's a good chance of water damage nearby. The problem is that mold can be difficult to see with the naked eye. It tends to show up in hidden places—nooks and crannies, behind furniture, in basements, and other hard-to-see locations.
Mold is no joke. It can spread quickly once present and be hard to get rid of. It can produce allergic and respiratory symptoms, as well, so be sure to call a mold remediation specialist if you find it in your home or business.
It may smell damp and musty
Water damage isn't all about looks. It involves smells, too, so it's time to put your nose to work.
When water leaks into building materials like wood and drywall and lingers there, it won't take long for you to notice a damp or musty smell. The same is true of mold. If you have mold growing due to water damage—likely on your walls or baseboards—you may notice a similar musty scent.
What Should I Do if I See Water Damage?
If you see (or smell) the signs of water damage on your property, we recommend that you contact us for fast 24-hour service. If you catch the problem early enough, our certified specialists can help you avoid the worst-case scenarios mentioned above.
With decades of experience in commercial and residential water damage restoration, SERVPRO of Western Lancaster County is here to make your water problem go away—Like It Never Even Happened!